Full interveiw https://www.youtube.com/watch?v=PXAfo764c8c
Shark Attack - Bullshark Attacks Spearfisherman скачать видео -
Скачать
ПОХОЖИЕ ВИДЕОРОЛИКИ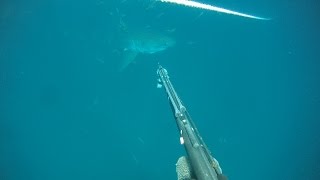 2 г. назад
My buddies Alex Fogg, Joe Kistel and I had been filming and collecting lionfish at various sites in the Gulf southwest of St. George Island FL. We had been taking turns with Alex and Joe diving together while I dove solo. This was my third and final dive of the day on a man-made structure in 93' feet of water approximately 22 miles due south of St. Vincent Island. The shark enters the camera's field of view at 3:48 and a moment later catches my eye. I instantly recognized it as great white and you can faintly hear me say "Oh my God". I estimate the fish was 35' or so below me. It spooked me in that it had approached from behind and had already passed me when I saw it. I watched until it swam out of sight then re-cocked my speargun which I usually unload when heading back to the boat as a safety precaution. I glanced around looking for the shark and up at the boat to make sure the dive ladder was indeed down. I noticed a small lionfish had escaped from my bag and was swimming down and you can hear me say "oh no". The bag of lionfish was positively buoyant and it drifted into me dragging the stringer of mangroves with it. I moved it out of the way and kept scanning the water column below. My first two dives had been to 120' and I had pushed this dive at 93' to my limit of bottom time. I needed to do this safety stop to avoid the bends, so I stayed where I was while my computer counted down the required 3 minutes. I took another quick look at my boat and another at my computer which shows me at 15' below the surface. Most sharks have a tendency to come back for another look and that's exactly what this one did. Fortunately, I was looking in the general direction when I faintly saw something that caught my eye. It was the shark about 40' away coming straight at me from below. I've had countless encounters with bulls, sandbars and a few tigers and hammerheads. Over the years, I've learned the best defense is to go on the offense and let them see that I'm not intimidated. Turning and running could trigger the predator/prey instinct, so I stood my ground aiming my speargun at its head. For a second I figured this was it and was prepared to fend it off with my gun like I have done countless times before with curious or aggressive sharks. Fortunately, for whatever reason, this one turned at about 15' away and gave me a full profile view. I say "Oh my God" again and then let out a loud sigh of relief when he turns again and heads back down. I watched until it disappeared again then decided to take my chances with decompression sickness rather than a third visit from the shark, so I skipped the remaining 2 minutes of wait time and headed to the surface and safety of the boat. I estimate the shark was 9-10' long and at no time did it seem aggressive or anything other than curious. I'm a charter captain and I had a juvenile great white around 12' long circle my boat last year about 30 miles out around the same time the tagged great white shark named Katherine was being tracked in the Northern Gulf. I had heard other reports of random sightings and saw the news reports of the great white caught off the beach in Panama City so I knew great whites come into the Gulf. This was the first one I've ever seen while diving and this experience will make me reconsider diving in murky water with limited visibility. I'm glad we both went our separate ways fully intact and healthy, but I hope I never have to experience another encounter like that again.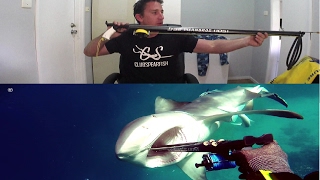 6 мес. назад
Interveiw regarding Bullshark attack on a spearfisherman in North Queensland Australia December 2016. https://www.youtube.com/watch?v=pnA5DT3ilQw
2 г. назад
CARS FALLING INTO WATER COMPILATION - https://www.youtube.com/watch?v=MfdlUxAls08 Want to see what happens when you get too close and mess with wild animals? DISCLAIMER: There are some graphic scenes, especially towards the end. Dont watch the whole thing if you are easily disturbed. Animal attacks that take place near or in water. Sharks, crocodiles, fish. Under Section 107 of the Copyright Act 1976, allowance is made for «fair use» for purposes such as criticism, comment, news reporting, teaching, scholarship, and research. Fair use is a use permitted by copyright statute that might otherwise be infringing. Non-profit, educational or personal use tips the balance in favor of «fair use». The recent amendments to the Copyright Act of 1976 pertain to music. «Fair use» remains in force for film and video. No copyright intended. All content used in adherence to Fair Use copyright law. Copyright issue? Send us a message and we'll get it resolved. SOURCES: Grouper attack - https://www.youtube.com/watch?v=MkvSk9NqQ6I Electric eel attack - https://www.youtube.com/watch?v=QCISeCZAFC8 Shark biting on cage - https://www.youtube.com/watch?v=bLGQPvRIA78 Shark gets into cage - https://www.youtube.com/watch?v=b2obQ4kTNcc Shark attack diver - https://www.youtube.com/watch?v=MuJmrv_KF24 Shark bites kissing diver - https://www.youtube.com/watch?v=lgGApgrZGzA Octopus attack - https://www.youtube.com/watch?v=iSNl50mvDuk Shark attack boat - https://www.youtube.com/watch?v=SCUc3U8WVMo Killer whale attacks boat - https://www.youtube.com/watch?v=6nGNAidhKWc Tiger shark bite at diver - https://www.youtube.com/watch?v=xJKrOlN2QA4 Black tip shark bite at diver - https://www.youtube.com/watch?v=MGSHd3MZTt0 Blue shark bites arm - https://www.youtube.com/watch?v=ZFsZfWD5H0s Bull shark attack - https://www.youtube.com/watch?v=WGk83ovkzeI Goblin shark attack - https://www.youtube.com/watch?v=eh_HUIJkRzU Squid attack - https://www.youtube.com/watch?v=9Fkl312lldQ Hippo chase boat - https://www.youtube.com/watch?v=Su7GkqwxG08 Photographer croc attack - https://www.youtube.com/watch?v=Xdfrjbsd9fU Trigger fish attack - https://www.youtube.com/watch?v=NZ4XIhXD1hI Shark attacks man with stick - https://www.youtube.com/watch?v=MCzWeQkQ2Fw Leopard seal bite at camera - https://www.youtube.com/watch?v=NXTkOs-wg2E White shark at sydney harbour - https://www.youtube.com/watch?v=-m3N_BnVdOI Angel shark attack - https://www.youtube.com/watch?v=uL7I6dgfzH4 Barracuda attack - https://www.youtube.com/watch?v=8DUULka_l3Y Shark feeding attack - https://www.youtube.com/watch?v=GgUphtDrBFs Shark bite head - https://www.youtube.com/watch?v=kXP_s6SkUuI Tiger shark bites gear - https://www.youtube.com/watch?v=KdgPCCErRPg Crocodile attack man in water - https://www.youtube.com/watch?v=0oYViBOWUxo Crocodile close call - https://www.youtube.com/watch?v=ReSqLQ2KKm4 Octopus attack man/camera - https://www.youtube.com/watch?v=Srw9syYpjN4 Sea lion attacks man - https://www.youtube.com/watch?v=yf1I_o8yroc
2 мес. назад
We do not own this video, it belongs to Liveleak. Link: https://www.liveleak.com/view?i=095_1496797204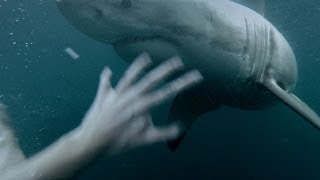 3 г. назад
Close Call with a Great White Shark in Sydney Harbour! Filmed on a GoPro at Manly jump rock HOLY SH*T! -- 'Terry Tufferson' Created By CASPAR MAZZOTTI Directed By CASPAR MAZZOTTI Find out more @ www.thewoolshedcompany.com/virals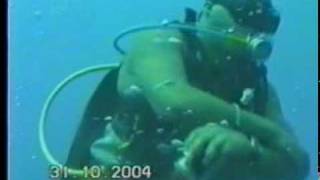 10 г. назад
My cuban friend instructor was opening the event of the bull shark feeding time before the tourisms come down and by an accident the shark bite is harm ,afters months of hospitalisation he return to feed those animals again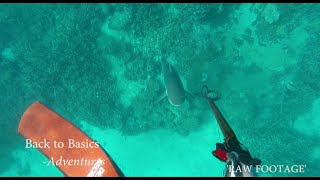 3 г. назад
While spearfishing on the Great Barrier Reef, Strick has an unexpected shark encounter. FB: http://facebook.com/BacktoBasicsAdventures WEB: http://www.BacktoBasics-Adventures.com INSTA: @backtobasicsadventures JOIN THE TEAM http://http://backtobasicsadventures.myshopify.com/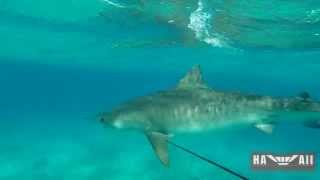 2 г. назад
Tiger shark tries to get a free meal on a freshly speared Ulua (Giant Trevally) but diver keeps him away from his catch with a broken spear tip. I had no intention of harming or killing this shark. Jukin Media Verified (Original) * For licensing / permission to use: Contact - licensing(at)jukinmediadotcom
2 мес. назад
The short clip of me getting attacked by a 7-8ft reef shark. We were spearfishing near Middle Sambo reef off Boca Chica in the Keys on Sunday when this shark came out of nowhere. 🙏🏽 Medical bills are expensive. 🙏🏽 Check out my GoFundMe: https://www.gofundme.com/SharkAttackFund He first went at my dive buddy Justyn but immediately turned toward me. He first bit my left fin then took a chunk out of the right one before biting my leg and cutting the speargun line. I assumed he was trying to steal the black grouper i was holding. But after I lost the grouper and watched it swim to the bottom, the shark kept coming at us! Justyn went back down for my gun and actually shoved it in the sharks mouth like a badass!!!! The shark then took it straight to the bottom while we rushed back to the boat and safety. Always dive with a buddy and someone who is trained in first aid! I would not have made it back to the boat without the help of another strong swimmer and would have bled out had I not been patched up so well by Amanda. The shark tore through the skin, fat tissue, muscle, muscle sheath, and unfortunately my tibial artery which caused me to lose more than a liter of blood. This clearly could have been much worse! Happy to still have my leg even with a piece missing! And we even got my Koah speargun back!!! 🦈 🦈 🦈 🦈 🦈 🦈 Thanks to everyone that was there or came to help! Pictures of the wound were quite graphic and have been left out. To view them click the following link: https://goo.gl/photos/vyUKpbmtg2e8ZH3A7 #NoThatsMYLeg #TheTaxManStrikesAgain To use this video in a commercial player or in broadcasts, please email licensing@storyful.com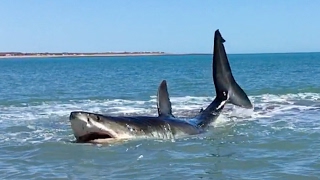 2 мес. назад
Uncut and unedited video clips of encounter with White Shark. WARNING: GRAPHIC AND OFFENSIVE LANGUAGE NOT FOR CHILDREN. (TURN OFF VOLUME GRAPHIC LANGUAGE) SUBSCRIBE TO MY CHANNEL FOR FUTURE VIDEOS ON WHEN I GO BACK AND FILM THIS SHARK AND OTHERS LIKE IT AGAIN. WE HAVE SEVERAL EXPEDITIONS COMING UP. Disclaimer: This video is exclusively managed by Caters News. To license or use in a commercial player please contact info@catersnews.com or call +44 121 616 1100 / +1 646 380 1615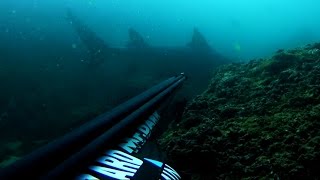 8 мес. назад
Ψαροντουφεκο - Καρχαριας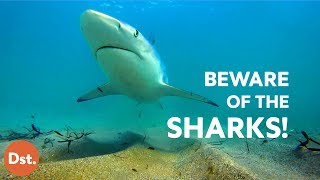 1 г. назад
Get more Tips here! www.destinationtips.com Shark attacks seem to be on the rise in many parts of the world, therefore, you might want to steer clear of the following known shark-infested waters. Statistically, these are among the most dangerous beaches for deadly shark attacks. 1. Pernambuco, Brazil The shockingly high attack rate in these waters appears to be due to over-fishing. Without enough food supply, the sharks have begun to sample other forms of fare to satisfy their relentless hunger. 2. Second Beach, South Africa The beach is popular among shark-seeking tourists and cage divers. Tour operators dump boatloads of bloody chum in the water order to entice the great whites. You definitely don't want to surf or swim anywhere near these boats and their chum lines. 3. New Smyrna Beach, Florida More than 238 shark attacks have been documented at Florida's (surprisingly) popular New Smyrna Beach. In fact, 15% of worldwide shark bites have occurred here. Most of the bites are courtesy of baby bull sharks that favor these waters. To date, none of the recorded attacks here have been fatal. 4. Velzyland Beach, Hawaii About 41 different shark species that frequent Hawaii's waters including aggressive specimens like bull sharks and great whites. The last fatal shark attack at this beach occurred in 1994 when a tiger shark attacked a surfer. More recent attacks on surfers have been reported, but none fatal. 5. New South Wales, Australia This region, which includes famous Bondi Beach, has recorded more than 170 unprovoked shark attacks and more than 50 fatal attacks, and great white shark encounters are more common here than in other parts of the world. Due to the position of the continental shelf, swimmers and surfers are in close proximity of deep waters where these potential predators cruise. 6. Fletcher Cove, California Fletcher Cove may be picturesque, but it is also the scene of 142 unprovoked shark attacks, including some recent fatalities. Scientists are convinced that the fish-strewn waters in this region are ideal feeding grounds for large predators like the great white. 7. Reunion Island, Indian Ocean This island has had more than 10 attacks in a recent two-year period, three being fatal. This has prompted island officials to close the beaches to swimmers and surfers. Experts aren't sure why the sharks are biting people with greater frequency. 8. Myrtle Beach, South Carolina Since 2005, there have been more than fifty attacks. In fact, researchers have claimed that South Carolina's waters are just as dangerous as Florida's when comparing the swimmer-to-attack ratio. Their waters are attractive to species like tiger sharks and bull sharks. 9. Coffin Bay, Australia The name says it all. Don't swim here unless you fancy a meeting with a great white. Recently an abalone diver was attacked and killed by two great white sharks. His body was never recovered. 10. Surf Beach, California A nineteen-year-old surfer was attacked and killed a few years ago by a great white shark believed to be 18 feet in length. The waters here are home to seals, which attract great whites in large numbers.