Full interveiw https://www.youtube.com/watch?v=PXAfo764c8c
ПОХОЖИЕ ВИДЕОРОЛИКИ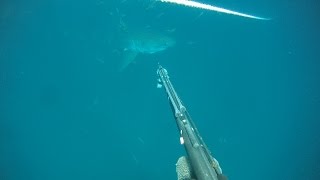 2 г. назад
My buddies Alex Fogg, Joe Kistel and I had been filming and collecting lionfish at various sites in the Gulf southwest of St. George Island FL. We had been taking turns with Alex and Joe diving together while I dove solo. This was my third and final dive of the day on a man-made structure in 93' feet of water approximately 22 miles due south of St. Vincent Island. The shark enters the camera's field of view at 3:48 and a moment later catches my eye. I instantly recognized it as great white and you can faintly hear me say "Oh my God". I estimate the fish was 35' or so below me. It spooked me in that it had approached from behind and had already passed me when I saw it. I watched until it swam out of sight then re-cocked my speargun which I usually unload when heading back to the boat as a safety precaution. I glanced around looking for the shark and up at the boat to make sure the dive ladder was indeed down. I noticed a small lionfish had escaped from my bag and was swimming down and you can hear me say "oh no". The bag of lionfish was positively buoyant and it drifted into me dragging the stringer of mangroves with it. I moved it out of the way and kept scanning the water column below. My first two dives had been to 120' and I had pushed this dive at 93' to my limit of bottom time. I needed to do this safety stop to avoid the bends, so I stayed where I was while my computer counted down the required 3 minutes. I took another quick look at my boat and another at my computer which shows me at 15' below the surface. Most sharks have a tendency to come back for another look and that's exactly what this one did. Fortunately, I was looking in the general direction when I faintly saw something that caught my eye. It was the shark about 40' away coming straight at me from below. I've had countless encounters with bulls, sandbars and a few tigers and hammerheads. Over the years, I've learned the best defense is to go on the offense and let them see that I'm not intimidated. Turning and running could trigger the predator/prey instinct, so I stood my ground aiming my speargun at its head. For a second I figured this was it and was prepared to fend it off with my gun like I have done countless times before with curious or aggressive sharks. Fortunately, for whatever reason, this one turned at about 15' away and gave me a full profile view. I say "Oh my God" again and then let out a loud sigh of relief when he turns again and heads back down. I watched until it disappeared again then decided to take my chances with decompression sickness rather than a third visit from the shark, so I skipped the remaining 2 minutes of wait time and headed to the surface and safety of the boat. I estimate the shark was 9-10' long and at no time did it seem aggressive or anything other than curious. I'm a charter captain and I had a juvenile great white around 12' long circle my boat last year about 30 miles out around the same time the tagged great white shark named Katherine was being tracked in the Northern Gulf. I had heard other reports of random sightings and saw the news reports of the great white caught off the beach in Panama City so I knew great whites come into the Gulf. This was the first one I've ever seen while diving and this experience will make me reconsider diving in murky water with limited visibility. I'm glad we both went our separate ways fully intact and healthy, but I hope I never have to experience another encounter like that again.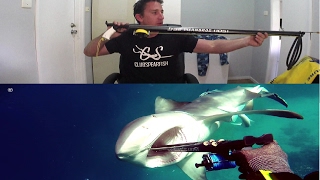 9 мес. назад
Interveiw regarding Bullshark attack on a spearfisherman in North Queensland Australia December 2016. https://www.youtube.com/watch?v=pnA5DT3ilQw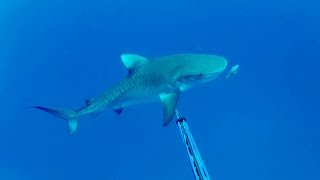 2 г. назад
Filmed by Paul Marsh While on a breath hold spearfishing adventure to the Coral Sea in Australia, a young Spearo (Paul Marsh) encountered a near critical and very exciting experience. A Tiger Shark rushes him and his dive buddy several times before they manage to hurl themselves into the boat. Many screams follow due to huge amounts of adrenalin, joy and excitement as Spearo's love this kind of experience and action.
4 мес. назад
The short clip of me getting attacked by a 7-8ft reef shark. We were spearfishing near Middle Sambo reef off Boca Chica in the Keys on Sunday when this shark came out of nowhere. He first went at my dive buddy Justyn but immediately turned toward me. He first bit my left fin then took a chunk out of the right one before biting my leg and cutting the speargun line. I assumed he was trying to steal the black grouper i was holding. But after I lost the grouper and watched it swim to the bottom, the shark kept coming at us! Justyn went back down for my gun and actually shoved it in the sharks mouth like a badass!!!! The shark then took it straight to the bottom while we rushed back to the boat and safety. Always dive with a buddy and someone who is trained in first aid! I would not have made it back to the boat without the help of another strong swimmer and would have bled out had I not been patched up so well by Amanda. The shark tore through the skin, fat tissue, muscle, muscle sheath, and unfortunately my tibial artery which caused me to lose more than a liter of blood. This clearly could have been much worse! Happy to still have my leg even with a piece missing! And we even got my Koah speargun back!!! 🦈 🦈 🦈 🦈 🦈 🦈 Thanks to everyone that was there or came to help! Pictures of the wound were quite graphic and have been left out. To view them click the following link: https://goo.gl/photos/vyUKpbmtg2e8ZH3A7 #NoThatsMYLeg #TheTaxManStrikesAgain To use this video in a commercial player or in broadcasts, please email licensing@storyful.com
2 г. назад
Top 10 people that survived scary shark encounters on the beach and in the middle of the ocean. Subscribe to our channel: http://goo.gl/9CwQhg For copyright matters please contact us at: david.f@valnetinc.com Other Videos You Might Like Terrifying Sea Creatures That Actually Exist https://youtu.be/uoqnoLxlfxI The Most Dangerous Selfies Ever Taken https://youtu.be/vbINDVqaQic Description: A fear of sharks is known as galeophobia, a condition that might be growing more widespread as media stories about shark attacks seem to be getting more frequent. Highlighted by the unsettling live video footage of professional surfer Mick Fanning getting attacked during the J-Bay Open event in South Africa, this summer produced an endless stream of media reports that seemed to point to a troubling trend of aggressive shark behavior. Heck, we were even subjected to the third offering as part of the Sharknado movie series. Now, let's be clear here - none of the reported attacks have been fatal. In fact, shark attack deaths are extremely infrequent, with many seemingly mundane activities bringing about a higher death toll. There were 15,000 deaths identified as being caused by cycling between 1990 and 2009, a period that produced just 14 shark attack fatalities. Even lightning strikes have been statistically known to kill 40 people annually, far exceeded the death rate for shark-related mishaps. Shark attacks have increased in sheer numbers over the years, but have actually decreased proportionally in relation to a growing population. In reality, sharks have little interest in feasting on humans. Beyond population numbers, increases in attacks have come as a result of more people finding their way onto beaches and into oceans. For those who find themselves swimming far off the coast and in deep, shark-infested waters, you are occupying territory that belongs to them. If they decide to approach, it's borne more out of a curiosity over a foreign presence than any vicious intent. Even when it comes to shark encounters, exploratory bites are far more common than attempts by sharks to devour human prey. It's understandable that it would be of little comfort for most people to know that most shark bites are more exploratory in nature than malicious. After all, a shark sighting is going to be downright frightening for a swimmer regardless of the shark's intent. Armed with speed, power and sharp, jagged teeth, sharks offer a destructive enough force that any of the approximate 60 attacks every year have the potential to be deadly. The good news is that shark attacks happen to be quite preventable. Aside from staying near the shore when wading into the ocean, simple, easy measures like avoiding fishing areas and holding off swimming with open wounds can help, as can staying out of the water at night. If you do encounter a shark, do your best to stay calm, try to maintain eye contact and then back away slowly. That being said, you still don't want to find yourself in the crosshairs of a hungry, blood-thirsty shark. These 10 people couldn't prevent shark encounters, but their crazy survival stories offer hope that you can live to tell the tale even after being in the presence of a Great White. Here are the remarkable stories behind 10 terrifying shark attacks and the lucky folks that survived the traumatic ordeals. Our Social Media: Facebook: https://www.facebook.com/TheRichest.org Twitter: https://twitter.com/TheRichest_Com Instagram: http://instagram.com/therichest Featuring: Rodney Fox Valeh and Sydney Levy Joshua Holley Russell Easton Dolphin Rescue Henri Bource Pregnant Lifeguard Krishna Thompson Brook Watson Bethany Hamilton Mick Fanning For more videos and articles visit: http://www.therichest.com/ TheRichest is the world's leading source of shocking and intriguing content surrounding celebrities, money, global events, society, pop culture, sports and much more. We create high quality top 10 and top 5 list based videos filled with mind blowing interesting and entertaining facts you are going to love and enjoy. Currently updating every day!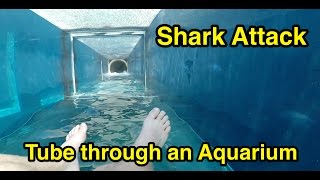 10 мес. назад
Take a HD POV aboard Shark Attack where you tube through a shark filled aquarium. Thanks for watching!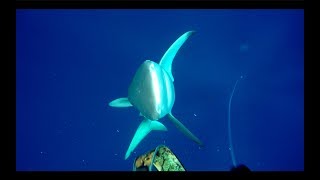 3 мес. назад
It was a long way to go from New Zealand to Ascension Island to nearly get eaten by sharks! In this video, shooting a small yellowfin tuna with a pole spear got out of control when 2 galapagos sharks tried to steal the catch. We put cool stuff on our Facebook page www.facebook.com/TheAdventureClub.nz * Jukin Media Verified * Find this video and others like it by visiting https://www.jukinmedia.com/licensing/view/965900 For licensing / permission to use, please email licensing(at)jukinmedia(dot)com.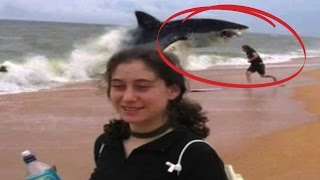 2 г. назад
Shark attacks do occur but despite peoples fear of them they are rare here are the top 10 shark attacks you won't believe actually happened. Subscribe To Most Amazing Top 10 Channel: http://bit.ly/1IPtQdq FOLLOW ME ON SOCIAL MEDIA FACEBOOK- https://www.facebook.com/pages/Landonproduction/268626033166262?ref=hl INSTAGRAM- http://instagram.com/landonproductions TWITTER- https://twitter.com/LandonYoutube VIDEO EDITED BY: Jesse O'Riordan: www.spacehouse.org
9 мес. назад
Crazy Shark Attacks Caught on Go Pro! Top 10 Shark Attacks as of 2017. Most Extreme Shark Attack Compilation. ➜ Subscribe: http://tinyurl.com/madbadtv ➜ Twitter: https://twitter.com/madbad_tv 👉 For Every 100 Likes, a Baby Panda is SAVED! Full Videos: 10. Great White Shark Cage Breach Accident https://www.youtube.com/watch?v=93WiSq9TIoM 9. 8 Year old attacked by Shark caught on Go Pro https://www.youtube.com/watch?v=UoHV81zVUJ8 8. Shark attack at High Head https://www.youtube.com/watch?v=rhz3QZhxbEE 7. Crazy Shark Attack North Queensland https://www.youtube.com/watch?v=RkrLQP7Pat8 6. Shark attack caught on camera - Daytona Beach https://www.youtube.com/watch?v=Zp6We2R0GnA 5. The scariest shark attack ever filmed ! https://www.youtube.com/watch?v=w-JAUnvTlZY 4. Shark Attacks Mick Fanning at J-Bay Open https://www.youtube.com/watch?v=xrt27dZ7DOA 3. Shark Attack - Bullshark Attacks Spearfisherman https://www.youtube.com/watch?v=pnA5DT3ilQw 2. Oceanic Whitetip Shark Bites Diver https://www.youtube.com/watch?v=WkF7yW4oaDU 1. WARNING - GRAPHIC: Shark Attack Caught On Video https://www.youtube.com/watch?v=XCwkjcVl-QU This video is intended for educational and/or reviewing purposes. We do not condone violence or any otherwise negative and/or criminal behavior. No grievous harm was brought to any individuals in this video.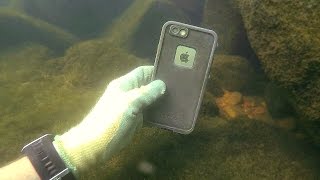 9 мес. назад
In this video I search for river treasure in Columbus, GA! What is your favorite clip in this video? If you want to see more videos like this make sure to click the like button! Let's aim for 10,000 likes! • New? Subscribe and help me reach 900,000 subscribers! https://goo.gl/tXzZYd Check out my previous most recent river treasure videos! Found Possible Murder Weapon Underwater in River! (Police Called) https://goo.gl/DIFPtP Searching for River Treasure! - Knife, $40 Swimbait, 4 Sunglasses, Fishing Tackle and MORE! https://goo.gl/Jglc90 Searching for River Treasure! - GoPro, Diamonds, Ray-Bans, Costas, Fishing Tackle and MORE! https://goo.gl/PkcjSt Follow me on Twitter & Instagram! Twitter (Daily Updates): https://twitter.com/DALLMYD Instagram (Daily Pictures): https://www.instagram.com/WooverRain/ Email: DALLMYD@yahoo.com Location: Columbus, Georgia My Address PO Box 211 Phenix City, Alabama, 36868-0211 Intro Music Provided by ProleteR - "Faidherbe square" Link: http://goo.gl/1KLAt0 Music Provided by Dan Dakota - "We let Em Go" Link: https://goo.gl/8HB1DG Outro Music Provided by Flarve "Bounce" Link: https://goo.gl/Um1gXw Cameras used: Sony As7 II, GoPro Hero 4 & 5, Galaxy s7
2 г. назад
These are some of the most horrific shark attacks caught on tape, from sharks that attack surfers to divers, from great white sharks to bullsharks. Please subscribe; http://www.youtube.com/subscription_center?add_user=dorsetghostuk Some more awesome videos. 5 More Most Horrific Great WhIte Shark Attacks https://www.youtube.com/watch?v=sf3L9idUvIA 5 Deadly snake Bites https://www.youtube.com/watch?v=dL7ZTpAbB8A 5 most creepy unsolved mysteries https://www.youtube.com/watch?v=a1olzGmZt-4 5 most Horrifying science experiments https://www.youtube.com/watch?v=Izg0hqM7rGI 5 Most Mysterious Lost Worlds https://www.youtube.com/watch?v=KkRSdXvHJMQ 5 most amazing angels caught on tape https://www.youtube.com/watch?v=swYowKVPeoo 5 most disgusting parasite https://www.youtube.com/watch?v=kLmTBCWI3rY If you have a true terrifying story that you want us to make a video on, then you can contact us at; dorsetghostinvestigators@rocketmail.com Please follow us on Twitter; https://twitter.com/dorsetghost Please like our Facebook; https://www.facebook.com/pages/Dorset-Ghost-Investigators/259833150723729?ref=bookmarks Please add us on Google+; https://plus.google.com/+dorsetghost/posts Music credited to http://www.purple-planet.com Licensed under Creative Commons "Attribution 3.0" http://creativecommons.org/licenses/b Music also credit to: Kevin MacLeod (incompetech.com)". Licensed under Creative Commons "Attribution 3.0" http://creativecommons.org/licenses/by/3.0/ Licence for Images in video: This work is licensed under a Creative Commons Attribution-ShareAlike 3.0 Unported License. This file is licensed under the Creative Commons Attribution-Share Alike 2.0 Generic license.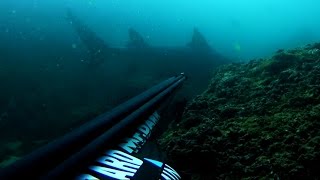 11 мес. назад
Ψαροντουφεκο - Καρχαριας